Our services include a comprehensive range of paving solutions for yards, streets, car parks and highways. We offer services to households, housing associations, commercial properties as well as industrial sites. In addition to paving services, we do landscape construction, install stone paving and carry out soil replacements on a turnkey basis.
Our three asphalt plants are in Nurmijärvi, Jyväskylä and Kajaani. Around these areas, we provide versatile paving services for both small and large sites.
Do you want to know how much paving costs – send us a request for quotation!

Regional contact persons
Uusimaa
Jussi Liski, +358 50 543 0567, jussi.liski@grk.fi
Matti Pölkki, +358 40 777 9831, matti.polkki@grk.fi
Central Finland
Antti Kaarlela, +358 40 849 1780, antti.kaarlela@grk.fi
North Savo and Kainuu
Harri Haapalainen, +358 50 4332 652, harri.haapalainen@grk.fi
Rest of Finland
Matti Honkonen, +358 500 599 134, matti.honkonen@grk.fi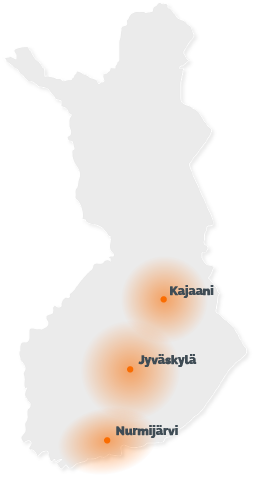 About us
Our experience in the asphalt industry long and solid. We have been in the industry since 2006, and have operated as GRK Road Oy since 2017. Our operations have been on a strong growth path for several years. In Finland, we serve both public sector as well as private and corporate customers. Every year, we carry out several extensive paving and structural improvement projects for cities, municipalities, and the Centre for Economic Development, Transport and the Environment. For public sector customers, we implement paving work also in Sweden and Estonia. Read more about the paving solutions we offer.
GRK Road Oy's operating system is certified as a management system in accordance with ISO 9001, ISO 14001 and ISO 45001. We are also RALA-certified. We CE mark asphalt masses and aggregates produced at our production facilities, which are monitored annually. More detailed information on the certificates and RALA qualifications can be found on the website of the Construction Quality Association www.rala.fi. Our operations comply with the Act on the Contractor's Obligations and Liability when Work is Contracted Out and we require our suppliers to be part of Vastuu Group's Reliable Partner service.
GRK Road Oy
Business ID
2855085-6
Tel.
+358 10 321 4110
Email
firstname.lastname@grk.fi
CEO
Mika Häkli
www.grk.fi
Offices
Jaakonkatu 2, 01620 Vantaa
Nuolitie 6, 01740 Vantaa
Haikanvuori 8, 33960 Pirkkala
Kiilatie 1, 40320 Jyväskylä
Teräskatu 2, 70150 Kuopio
Takojantie 19, 85100 Kalajoki
Kasarminkatu 39, 87500 Kajaani
Nurmijärven asfalttiasema, Hämeenlinnantie 55, 01940 Nurmijärvi
Jyväskylän asfalttiasema, Oravasaarentie 577, 40800 Jyväskylä
Kajaanin asfalttiasema, Ruuhijärventie 91, 87100 Kajaani